PHOTO OF THE DAY
View today's pic of the day
View yesterday's pic of the day
| | |
| --- | --- |
| Joelle | © 2002-20010 elaisted.com | |
Or post this photo on your website:

Copy the code above! (Please remember to credit me.)
Date: February 17, 2012, 11:51 pm

From: Ryzki:
You are right, it didn't rlaely get into the variables of working from photos. I think its focus was more about the current perception in the artworld about using photo references. My paintings definitely look better, more luminous and textured, in real life, however I have also seen paintings that look better as a reproduction than in real life. Good link that you included and I agree with her comments. However I will go further and apply her observations to work from life as well. For example, if you don't have a basic knowledge of anatomy, drawing the figure can be very difficult, because the eye can be as tricky as a photo.
Date: August 16, 2012, 4:35 pm

From: Kostas:
OMG Kim! How very fun to see and to read all the feedbacks and cnltmimeops You did an amazing job and left us with so many great pictures You are so talented and so super nice! ♥
Date: December 6, 2013, 3:11 pm

From: Agus:
Wow, incredible weoblg structure! How long have you been running a blog for? you make running a blog look easy. The full glance of your web site is wonderful, let alone the content!
Date: November 28, 2015, 5:01 pm

From: Romaine:
Paul Ellis zegt:Dear Petra,Your article made me smile ALOT. Like you it was my first year and I have never beorfe or since done anything that was as challenging physically. I'm not sure who was slowest, me or you, but it didn't matter, I enjoyed the battle with myself. There is a great camaraderie on the tour. And I'm also coming back this year, on the (no-doubt false) assumption that the weather and wind cannot be that bad two years in a row!!! I look forward to seeing you on the water again.Paul
Other photos titled: Joelle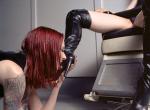 © 2002-2010 elaisted.com All rights reserved.