PHOTO OF THE DAY
View today's pic of the day
View yesterday's pic of the day
| | |
| --- | --- |
| Joelle | © 2002-20010 elaisted.com | |
Or post this photo on your website:

Copy the code above! (Please remember to credit me.)
Date: February 17, 2012, 1:08 pm

From: Josep:
Je suis atadrmiive, c'est splendide!Merci Chrys pour toutes ces precieuses informations, mais je ne me fais pas d'illusion... ce n'est pas demain que je ferai des photos de cette qualite... Une fois de temps en temps, mais c'est le fruit du hasard!Bisous et tres belle journee
Date: February 18, 2012, 6:13 am

From: Heri:
Bon croauge pour le bronzage :p Bon, j'espererais presque la soluce Darwin ! Juste pour lire tes aventures qui sembleraient plus palpiltantes la bas qu'a la ferme ;-)
Date: February 19, 2012, 7:51 pm

From: Kaique:
Wonderful shot! That's a great rule to have, no cell pehnos at dinner! I think it's wonderful to see how far pehnos have come.. but it's also unnerving to drive down the road and see so many people talking and driving, or worse, texting and driving.:/ I'll admit I wasn't always as cautious! But now that I have my son and he's always with me, I just can't take a chance! Plus I have to stay aware to make sure someone doesn't crash into me while they are being distracted. Sorry to rant! lol.
Date: March 2, 2014, 2:39 pm

From: Paul:
Candy.Hi. I think you might get more out of it if you read the whole article on my weisbte. What I'm saying is these things are NOT uncommon, but if you're using them, thinking that they add flavor to your writing, or are unique, or red hair is an easy identifier for a best friend, then you are doing what everyone else is doing and your writing won't stand out. There's nothing WRONG with any of them. But they are in so many novels that if you read as much as I do, you will say, "Oh, gosh...not another red headed best friend." "Not another nail biter." And have you ever bit your lip so hard you tasted blood? THAT'S HARD! Yeah, you do it on accident, but most people don't do that out of simple nervousness. The only book I believe this in is SPEAK. Otherwise it's just the same as "It was a dark and stormy night." Does that help?
Date: March 2, 2014, 3:40 pm

From: Ayaka:
I think red hair is overused besuace using red hair for a best friend is a very quick way of "helping" the reader keep your characters straight. I'm the anonymous from above, and like I said before, I don't disagree with the "best friend" part of this.But couldn't you also say that brunette hair is overused for the main character? Or that blondes are often written as airheads and flirts? I think I cringed besuace you pointed out the redheads only. That's probably besuace they're a minority, and they stand out when you're reading. But a list like this calls for a more objective view. Have you looked at how many times main characters are brunettes, for example? I'd love to know what shades of hair you've found most in other roles, from all the reading you've done.Your list made me think, though, so thank you. :)
Other photos titled: Joelle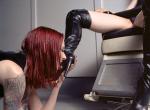 © 2002-2010 elaisted.com All rights reserved.