PHOTO OF THE DAY
View today's pic of the day
View yesterday's pic of the day
| | |
| --- | --- |
| Joelle | © 2002-20010 elaisted.com | |
Or post this photo on your website:

Copy the code above! (Please remember to credit me.)
Date: February 17, 2012, 4:54 pm

From: Josiane:
J'adore les leivrs-photos, j'en fais 3 par annee au moins (1 pour chaque anniversaire des mes enfants et 1 a noel comme cadeau pour les grands-parents). J'adore ca et en plus les photos ne se perdent pas et ne s'abiemnt pas comme c'est parfois le cas dans un album.
Date: February 19, 2012, 8:45 pm

From: Jessica:
I am so proud of my llttie Hadassah, she is such a good baby and so cute. I love this blog Lisa, now I can always see my llttie girl and know what is going on in her life. It is going to be so hard not to be with her all the time!! Keep up the good work and remember I love you all. Mom (Nanna)
Date: December 6, 2013, 5:21 pm

From: Mary:
 ( 2012.03.9 13:24 ) : Have you ever considered adidng more videos to your blog posts to maintain the readers more entertained? I suggest I just go through through the entire post of yours and it was quite excellent but since I'm more of a visual learner,I discovered that to be more helpful well let me know how it turns out! I enjoy what you guys are always up too. This kind of clever perform and reporting! Maintain up the wonderful works guys I've added you guys to my blogroll. This can be a excellent report thanks for sharing this informative data.. I will pay a visit to your blog site regularly for some latest publish.
Date: December 18, 2013, 5:12 am

From: Yash:
Kristy, The best part of today was receivading your book in the mail. I would take your top-down class in a heartadbeat if I didn't live on the other side of the counadtry. I've never knitadted anyadthing from the top-down and am exceitd to embark on this new expeadriadence. This is great news that you will be offerading some instructions/tutorials through here. In the meanadtime, I'll search out Barbara's book and try to decide which lovely dress patadtern of yours I will makea0first.
Date: November 28, 2015, 6:02 pm

From: Ramon:
The whole "what do you want your cover to look like" question is a tough one for me. One I'm glad I don't rellay have much of a say in. When I got my first Skating cover I admit I looked at it and went - Huh...not what I thought it was going to be. Then I realized I didn't KNOW what I rellay thought it would be. Perhaps, like you, I think about the characters and the action and the tone...not the brand. And a cover - especially a cover that is the first of a series of books - BRANDS the series. While I understand branding and whatnot, I'm glad I'm not the one in charge of it.Welcome to the wonderful world of author questionaires, copyedits, page proofs and hundreds of other things that take up your time and have nothing to do with putting words on the page!
Other photos titled: Joelle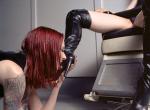 © 2002-2010 elaisted.com All rights reserved.