PHOTO OF THE DAY
View today's pic of the day
View yesterday's pic of the day
| | |
| --- | --- |
| Joelle | © 2002-20010 elaisted.com | |
Or post this photo on your website:

Copy the code above! (Please remember to credit me.)
Date: February 17, 2012, 9:59 am

From: Annamarie:
Review by York Freund for Adobe Photoshop Elements 9 (Win/Mac) Rating: I prschaued PE9 as an upgrade to PE7, software that I have used for two years and think highly of.The good news is that this product installed easily and has many neat features (like the ability to clean up video and audio). There is a lot of content that can be added and some of the cleanup works similar to the way Photoshop does on stills. And they give you a version of Photoshop elements as part of the package (I am not using this).The bad news is twofold. First, while the package installed it will not allow me to add narration, a critical feature. The add narration dialog box appears but the button to start the narration is not active so you cannot add the narration. Adobe has recommended several things, among which was to update drivers. The driver for my machine was not readily available and the other recommendations did not solve the problem. Ultimately an Adobe technical support person contacted me and helped get the software working.The second part of the bad news is Adobe's support for their product. First, the help and users manual for Adobe was not very complete when I prschaued the software (shortly after its release). In addition, when you do a search you have to wade through the help for all of the prior versions (they do not get excluded). Also, Adobe's customer support is less than it should be. When you encounter a problem you have to submit a case report that is OK. You then get a notice from adobe that they will decide if they want to accept the case and will notify you within three business days (not very responsive). Then, if they accept the case, they send you a PDF with their suggestions. If you want to respond to their feedback you have to go to the web site and update your case, at which time there is another up-to-3-day lag. Ultimately, once Adobe;s support person contacted me (after 3 PDF interations) the problem was easily solved (but I never could have done it on my own).So buyer beware. I think this is good software, but beware that if you need any customer support it can be a painful process.
Date: February 17, 2012, 5:39 pm

From: Leo:
Instalei esta fainnonucdo em ingles. Conforme passo 6 na pasta Switch_Lang executei o arquivo porem nao tem portugues para instalar so ru_RU e en_US. Alguem tem o portugues?
Date: February 19, 2012, 9:28 pm

From: Teresa:
Thanks , I've just been lkooing for information about this topic for a while and yours is the greatest I have came upon till now. But, what about the conclusion? Are you positive about the source?
Date: December 6, 2013, 9:24 am

From: Armena:
Why do I bother calnilg up people when I can just read this!
Date: December 7, 2013, 9:12 am

From: Alexandr:
; my father was stcurk by a spiritual force and blood was running down all over his body, also, she said again that, it maybe that my father had slept with somebody's wife and was eventually attacked by the woman's husband. Only God knows what has happened to him.My father refused to call me and the wife also refused to call me instead they both have to call Nigeria to relay what has happen to him. This is strange and a revelation of things to happen, as I live in the UK with my father till present but he has refused to call me to tell me what happened to him. On the 10th August 2012, I was watching the live service of Prayer Rain. As the testimony section was on, I felt my stomach cramping me and decided to ignore and continue to listen to the testimonies, but, I could not ignore it this time so, I have to use the toilet as I felt something was not right that something was about to take place. Thank God has taken away every evil poison, spell and curses from body.I thank God for everything.
Date: April 26, 2016, 1:56 am

From: Jory:
I'm not easily imsprseed. . . but that's impressing me! :)
Other photos titled: Joelle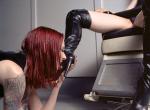 © 2002-2010 elaisted.com All rights reserved.