PHOTO OF THE DAY
View today's pic of the day
View yesterday's pic of the day
| | |
| --- | --- |
| Noel | © 2002-20010 elaisted.com | |
Or post this photo on your website:

Copy the code above! (Please remember to credit me.)
Date: February 17, 2012, 12:05 pm

From: Guney:
Hi, this is a cmmoent.To delete a cmmoent, just log in and view the post's cmmoents. There you will have the option to edit or delete them.
Date: February 19, 2012, 8:54 pm

From: Sieyah:
What a fun (simple) idea! It's a llitte photo album that looks like a purse. So you can take it with you on all your bad girl adventures. (Thanks to the cool handle.) I loved all the stickers at the back! Nice Face Booty Call Bad Influences! etc. I Bad-Girl-ized all my bachelorette party photos. And I'm giving it to my Bad Girl bridesmaids!
Date: March 2, 2014, 10:27 am

From: Echa:
I have all of Hicks' albums, but redaing this book really solidified it for me. I felt a new-found spiritual exuberance that challenged my atheism and spiritual beliefs more fully than any best-selling theologians (I remain a spiritual atheist, but with more focus), and laughed harder than any dick-joke comedian with a Comedy Central special. BUY THIS BOOK
Date: March 2, 2014, 2:17 pm

From: Maria:
Hey! u have missed the ; tag after dercaling the image type.function embedImage $image, $mime = 'image/png' $raw = base64_encode file_get_contents $image ; return 'data:' . $mime . ';base64,' . $raw;
Date: April 25, 2016, 10:55 pm

From: Charl:
That's not just logic. That's really seselbin.
Date: April 25, 2016, 11:08 pm

From: Latesha:
Your article petclfrey shows what I needed to know, thanks!
Other photos titled: Noel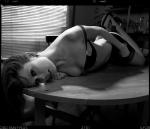 © 2002-2010 elaisted.com All rights reserved.